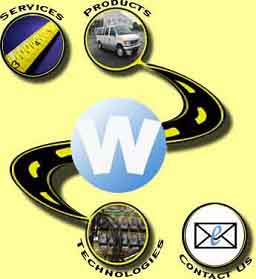 WayLink's Digital Highway Data Vehicle (DHDV) harmoniously integrates leading-edge sub-systems as part of an overall framework, designed to perform data collection and analysis at real-time, and under a multitude of circumstances. WayLink Systems strives to be a world leader in automated roadway data collection
A key technology of WayLink is the Automated Distress Analyzer (ADA), capable of conducting automated cracking analysis at 1-mm resolution at highway speed. WayLink also provides users a comprehensive application interface for accessing all data sets collected and analyzed with the data collection devices. This application interface is called Multimedia based Highway Information System (MHIS). The deluxe version of MHIS assists user to edit and add various distress information.
WayLink Systems Corporation is a U.S. based technology company specializing in automated highway and roadway data collection and analysis. Its digital-based products include automated pavement cracking and rutting survey, inertial laser-based longitudinal pavement profiling and roughness measurement, pavement right-of-way imaging, positioning data collections (including precision gyro, high-frequency differential GPS receiver, Distance Measurement Instrument, and Inertial Measurement Unit (IMU)).
These technologies are collectively integrated into the Digital Highway Data Vehicle (DHDV). WayLink has established a strong, and mutually beneficial collaboration with the University of Arkansas, Fayetteville. This collaboration has yielded many opportunities, and has helped WayLink become a world-leader in the field of automated highway and roadway data collection and analysis.